"You can't improve what you don't measure" – Peter Drucker.
A very important quote for any goal tracking. Be it a personal goal or your organizational goal, you will not be able to improve or know what is going wrong, and where it is going wrong if you are not constantly measuring your progress towards your goal. The same is true for any start-up. When you start your journey, you should always have a goal in mind. You should be knowing where you want to reach or what you want to achieve, only then you can target all your activities towards achieving that goal. Hence, every goal should be measurable and there should be business metrics associated with it.
At whatever stage of your business you are, there should be a set of key metrics that truly define how you are moving towards your goals. These metrics should be identified based on the type of business you are in, the stage of your business and the customers you are serving. If you have just started, there should be 3-4 key metrics you need to chase and grow. Your strategy should be to grow these metrics 10-20% month over month. Each team should be responsible for their metrics, chase them and grow them. This should be the target of everyone in your start-up. Only then the entire team will be aligned and have a common direction. The focus should be on growing these 3-4 metrics. As you scale up, focus on more and more metrics that define your growth. Also, every organization should have a North Star metric that helps drive its long-term strategy and goal.
What is a North Star metric?
North Star Metric (NSM) is the single key metric that best defines the core value that your product delivers to customers. The entire company should focus on this metric and aim to optimise all activities to grow this metric. This ensures that all departments are focused on one goal. The most important benefit of the NSM is that it ensures that the product is adding value to the customer and thus improving the customer experience.
Normally there will be a single North Star metric, but businesses with complex business models can have more than one North Star metric. Also, one single North Star metric can have related sub-metrics that are eventually driven into the main North Star metric.
How to identify your NSM?
To identify your North Star metric you should first outline the vision of your product and the value your customers get from using your product. Then try to quantify this value in a single metric. That should be your North Star metric.
Hence, a North Star metric should consist of 2 parts:
A statement of your product vision and
A metric that serves as a key measure of product value to customers.
An NSM should be identified specifically for your business. A metric that generates revenue without delighting customers will not be suitable, similarly, a metric that does not make a profit but just delights customers will also fail. For example, 'Revenue' is a poor NSM. As Revenue is the cost that your get from your customers, whereas your NSM should be the value that your customers get for that cost they are paying. Hence, the problem with Revenue as your NSM, is that your full focus will be to boost your revenue by getting more from customers and not focussing on the value your product is providing to the customer. However, if your NSM is focussing on the value that your customer is getting then that will lead to more delighted customers which in turn will lead to more business, more referrals and eventually more revenue in the long run. So always, select your NSM such that it brings more value to your customers, and promotes customer retention which will bring more growth to your organization.
Always keep in mind that if your North Star metric is growing, but your revenue is not, then you have selected the wrong metric as your North Star metric.
Summarizing, a North Star metric should have the 3 attributes:

Few examples of North Star metrics
Few of the popularly followed NSM for major Industries:
E-commerce North Star Metrics
Customer Lifetime Value (CLV)
Percentage of Repeat Purchases
Number of Purchasers Per Month
SaaS North Star Metrics
Retention
Customer Interactions
Number of Paid Users
Tech North Star Metrics
Number of Actions Taken Per User
Daily Active Users (DAUs)
Monthly Active Users (MAUs)
Media North Star Metrics
Total Hours Streamed
Average Revenue Per User (ARPU)
Time Spent Listening
North Star Metric followed by few popular companies: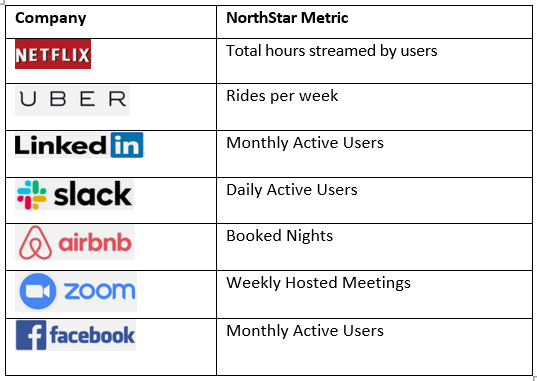 We will see the NSM for a B2B and B2C organization:
Jira's North Star Metric
"Weekly active paid users"- Jira aims to optimize active Weekly Paid users, which is a key metric for them. As a customer support management tool, Jira is only providing value when it is used. If customers stop using Jira, they're likely to churn.
YouTube's North Star Metric
YouTube doesn't publicize an NSM, but Sean Ellis' Growth Hacking book claims that it's "minutes watched". As a business that makes money from Ads, YouTube has two ways to serve more ads: Get more users and Get users to spend more time on the app. Driving the minutes watched upwards is, therefore, a good way of promoting future revenue growth.
Framework to create a good NSM for your Subscription business?
The most important step in creating an NSM for any Subscription business is to measure customer success.
Follow the below framework to identify your NSM:
Identify the Aha moment; when a customer realizes that this product will solve my problem and signs up for your product
Define your Activation point; when a customer experiences the value, your product is providing to the customer.
Determine the engagement frequency, as to how often a user needs to engage with your product
Define your NSM based on the above-collected data.
From Aha to Activation to Adoption should enable you to identify your NSM. As an example, let us understand how we can identify InsightDials NSM. InsightDials being a SaaS Business Intelligence platform, the Aha moment will be when a user signup for an account on InsightDials. While that is the aha moment, the customer does not experience the value of the product at that moment. So for InsightDials, the Activation point comes only when the user integrates his data source to the InsightDials platform and starts using the dashboards. This activation point is the key indicator of value the customer gets from the product. For some companies, the activation rate is their NSM. However, for Subscription/SaaS businesses, where the customer retention is based on the recurring subscription, that also adds to the long-term growth. Hence, for InsightDials and other such subscription businesses, engagement also forms a crucial point in the identification of NSM. That is, how frequently a customer uses his dashboards per week defines the customer engagement/retention/value. So, combining all of the data collected here, for InsightDials the NSM will be the number of active users who use their dashboard per week.
Conclusion
The NSM should be carefully selected. A North Star Metric that works for one organization need not necessarily work for others. Always remember that the NSM that you identify should drive future growth of revenue and customer retention.